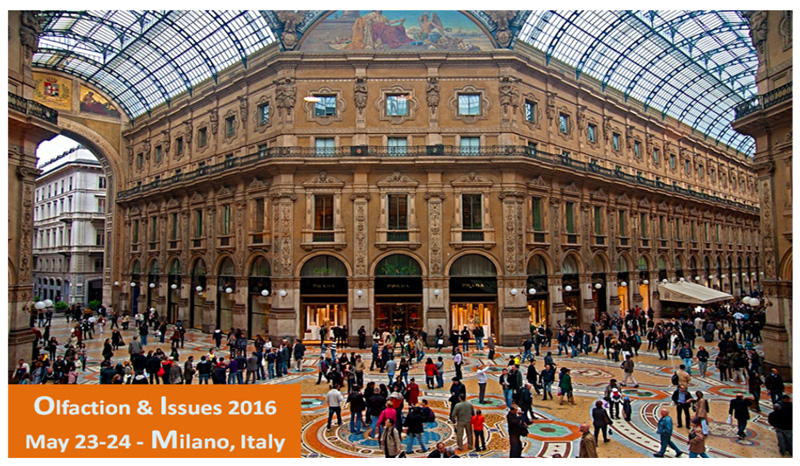 After the success of previous congresses in Paris 2010, Berlin 2013, and Tokyo 2014, the scientific committee of the digital olfaction society decided to organize two new congresses in 2016:
Olfaction & Issues 2016: Science, Marketing & Perspectives

- Milano, Italy May 23-24, 2016

DOS World Congress 2016 - Tokyo, Japan – December 7-8, 2016
Olfaction & Issues 2016: Science, Marketing & Perspectives
Odors are an important part of our lives. They are associated with events, experiences, people, places, materials and objects, with nature, with food, and illness. Odors arouse our emotions and are related to our anxieties, fears, ecstasies and memories.
We can envision scenarios where odors can play primary and even unexplored roles. Odors can be imagined, created and designed. We can use them to create a unique imprint to places, situations and things. Odors can romanticize reality and evoke association between the invisible and physical realm.
The manipulation of olfaction can introduce substantial advantages in design and marketing if we integrate odors in appropriate and ingenious ways. The design and marketing of odors is not only associated with perfumes, but also with other items that are typically odorless, such as buildings and places. It is possible to create odors that induce memorable emotions in users.
We can accomplish this if we govern and simulate the entire process of production, perception, and evolution of olfactory communication and messages, which must be consolidated with the other sensory receptors.
During the conference, the scientific committee will highlight the role of olfaction in many practical applications related to marketing, health, and well-being.
Olfaction & Issues 2016 will highlight three strategic topics:
The first session will be dedicated to the sciences and the scientific committee will highlight the recent scientific advances in the olfaction field.
The second session will be dedicated to the marketing of olfaction – Olfaction & Marketing: towards a personalized emotional perspective.
The third session will be dedicated to all the perspectives and innovations related to the olfaction.
The conference aims at gathering international researchers and academics, and industries and stakeholders engaged in the fields related to olfaction and digital olfaction to discuss issues about future applications of olfaction, the impact of these applications on society, the economy, and lifestyle.
We look forward to welcoming you in Milano & Tokyo for these events.
Monica Bordegoni
Co-Chairperson of Scientific Committee & Local Organizing Committee
Marvin Edeas
Chairman of the Digital Olfaction Society Committee & Co-Chairman of Scientific Committee