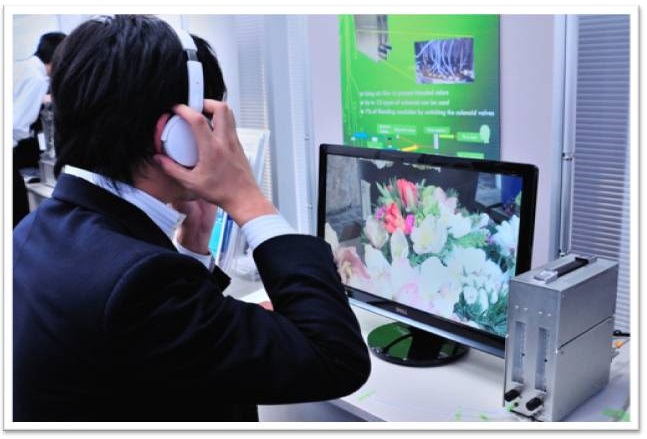 The Scientific Committee of Digital Olfaction Society 2nd World Congress 2014 has specifically dedicated a session to digital olfaction and aroma demonstrations.
You will find below a few videos of of theese demonstrations.
---
Digital Olfaction with Computer Controlled Odor Blender
Naohiko Maruyama, ONO-DENKI CO.,LTD.
Yuji Nozaki, Tokyo Institute of Technology, Japan
In this demonstration, reality of an ordinary demo movie is enhanced by introducing scents using a computer controlled odor blender.
Being quite easy to manipulate, this odor blender is suitable for making your own contents.
---
Cross-modal effect on scent and music
Masaaki Iseki & Takamichi Nakamoto
Precision and Intelligence Laboratory, Tokyo Institute of Technology, Japan
An user is requested to find a music appropriate for a specified scent. We expect that people can feel the cross modal effect according to the scent and musical harmony.
---
Smelling Screen: Generating Spatial Odor Distribution as if an Odor Source Had Been Placed onto an LCD Monitor Screen
Haruka Matsukura & Hiroshi Ishida
Tokyo University of Agriculture and Technology, Japan
The smelling screen is an olfactory display system that generates a localized odor distribution in front of an LCD monitor screen. The odor distribution is as if an odor source had been placed onto the screen, which leads the user to perceive the odor as emanating from a specific region of the screen. You can experience realistic changes in the intensity of a peach smell when you move your head to sniff at various locations on the screen.
---
Aroma Shooter - Instantaneous Scent-Switching Aroma Ejector
Dong Wook Kim & Yasui Aiko
Aromajoin Corporation, Japan
Aroma shooter, which employs a gas ejection method, has much less lingering scent than systems applying liquid spray methods. Furthermore, by pinpointing the face with directional scent, it can instantaneously switch the aroma to be synchronized with video and sound.
---