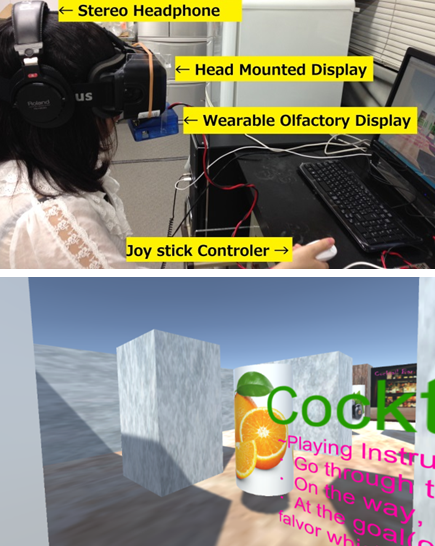 During DOS Congress 2016, Dr Yosuke Maruno, Dr Masaaki Iseki and Pr Takamichi Nakamoto from the Tokyo Institute of Technology will give a pratical demonstration of the cocktail maze using wearable olfactory display.
The aim of this demonstration is to propose cyber game contents based on our wearable olfactory display using surface acoustic wave (SAW) device. A participant equipped with a HMD (Head Mounted Display) together the wearable olfactory display, tries to go through a large maze toward a cocktail bar, which is a goal. On the way to the goal, he/she can collide big fruits' cylinders with a sense of immersion. At the goal (cocktail bar), he/she can sniff the fruits' flavors with their cylinders he/she has touched with a high realistic sensation.
In this work, we modified the layout of the game objects, improved the usability with joystick controller, and so on. Pr Nakamoto and his team expects that many people will easily enjoy the new "Cocktail Maze" game.
If you are interested to know more about this innovation, come & register by clicking here.